Register within a minute.
Step 1: Register to the FRAMEN Ads Manager
You can easily register on the FRAMEN Ads Manager within a minute. Go to FRAMEN Ads Manager Dashboard. Please enter your email address and password and confirm your password afterward.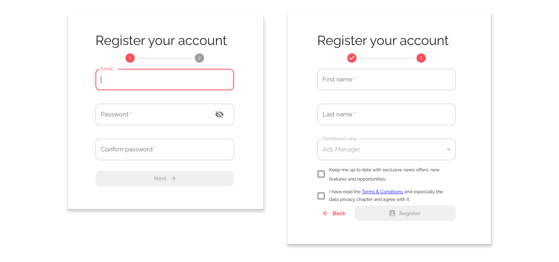 Now enter your first & surname. You can choose between the Ads Manager Dashboard and the Screen Manager Dashboard. No worries, you are always able to switch if needed.
Please fill out the checkboxes. If you want to receive exclusive Newsletters about offers, updates, and news - check to mark the first one. Please read our AGBs and confirm your agreement.

Et voilà, you successfully created your account.
Step 2: Complete your Profile
In the 'Profile' tab select 'My Settings'. You can complete your profile by entering your full name, job title, and department. You can also change your password, language, and dashboard view. Hit save once you've entered your details.

Step 3: Enter billing details
In the account tab, click on 'Billing'. In the 'Billing' section, click on the 'Billing Settings Button' in the upper right corner. A pop-up will appear for you to enter your business and banking details. Hit the 'Save' button once you're done.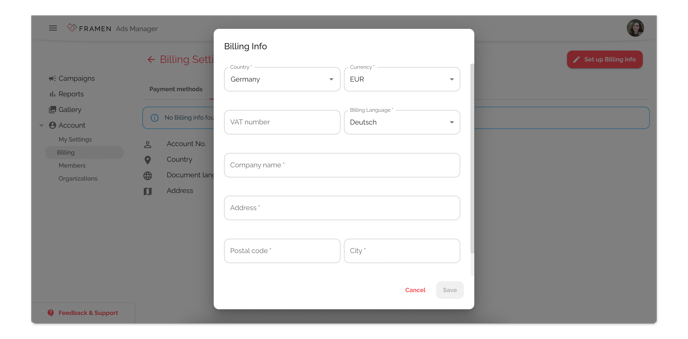 After you set up your billing info you can switch the tab to 'payment methods'. Here you can add a credit card. You can learn more about the credit card feature here.
Step 4: Start a campaign
You're now ready to start creating your custom campaigns and connecting with the perfect target audience for your brand.
Next up: Learn how to best reach your target audience on the FRAMEN Ads Manager. The fun has just begun – but you're already one step ahead of your competition with FRAMEN.
What is Jennifer doing?
Now Jennifer created her account. She just took 4 minutes, how fast are you creating your account?😉 Follow her next step: managing account settings.
Who is Jennifer? Get to know her!