Here's your guide to set up your free FRAMEN Ads Manager Account in minutes.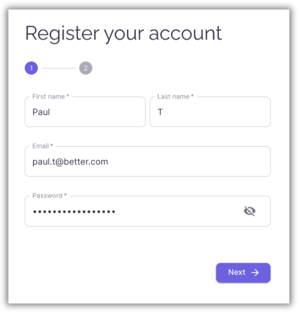 Step 1:
Register to the FRAMEN Ads Manager
To register, head over to the FRAMEN Ads Manager Dashboard and sign up by providing your first name, last name, email address, and password.

Step 2:
Select Your Default Dashboard
You now have the option to select between two dashboards as your default dashboard view:
Ads Manager Dashboard: This dashboard enables you to run and oversee ad campaigns, target exclusive venues and audiences, plus access detailed reports.
Screen Manager Dashboard: Content management software that allows you to access and manage content for free. Additionally, you can earn an income through the display of ad content.
Policy Agreements: To proceed with your account creation, please review our Terms and Conditions and Privacy Policy agreement. Also, you can stay informed about new features, special offers, and the latest news by agreeing to receive marketing updates.
⚙️ Tooltip: You can switch between the two dashboards in the Account Preferences section under My Settings.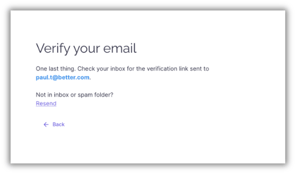 Step 3:
Verify Your Email
The next step is for you to approve your email ID through the email verification link sent to your registered email.
⚙️ Tooltip: Please check your spam folder incase you do not find the verification email in your inbox.
Step 4:
Complete Your Profile
After verifying your account, log in and finish setting up your profile. Navigate to the Account tab and click on My Settings. Here you can fill in your job title, department, and profile picture.
Navigate to
Billing
within the
Account section
. Click on the
Billing Settings
button located in the upper right corner. Switch to the
Billing Info
tab and select the
Edit Billing Info
button. A pop-up will prompt you to input your billing information. Save your changes by clicking the
Save
button.
⚙️ Tooltip: By default, your payment method will be set to deferred payment (Payment on a later date). Alternatively, you can opt to make payments via credit card. Learn more about configuring your payment details here.
What is Jennifer doing?
Jennifer just took 4 minutes to create her account, how fast were you at creating your account? 😉 Follow her as she manages her account settings on the Ads Manager
Who is Jennifer? Get to know her!
Next up: Now that your account has been successfully set up, explore some helpful tips and strategies for effectively targeting and engaging your ideal audience using the FRAMEN Ads Manager. The fun has just begun – but you're already one step ahead of your competition with FRAMEN.
---
Get Started 🚀

Use the FRAMEN Ads Manager to start your advertising campaign, or schedule a call with our sales team for assistance with setting up your FRAMEN campaign.


➡️ Start your campaign on the FRAMEN Ads Manager.
➡️ Book a call with our support team.
➡️ For the latest tips and updates, sign up to our newsletter here.