This article explains how to add your screen on the dashboard and manage all services offered by FRAMEN
How to add a screen to your account
---
How to add a screen to your account
If you are using the FRAMEN TV Box or FRAMEN App via your SmartTV or streaming device
Step 1: Connect your device to the Wi-Fi
After you have connected your device to your Wi-Fi network and are now connected to the Internet, exit the Wi-Fi settings. You will see a Pairing ID on the screen.
Ensure there is no firewall settings blocking the installation.
If you are using the FRAMEN TV Box, you can find the MAC address on the back of the box.

Step 2: Pair the screen in your account
Go to the FRAMEN Dashboard and log in with your account, or create one if you're not registered yet.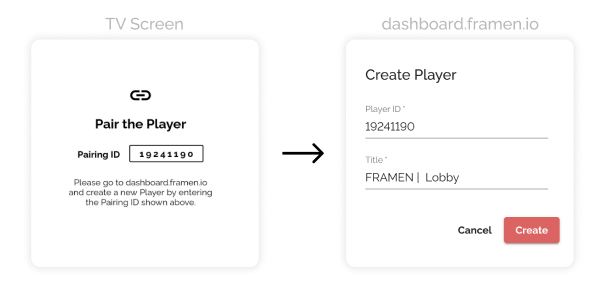 On the left, navigate to Players
On the upper right side, click on + New Player
A pop-up window will appear on your monitor requesting the Player ID, a descriptive Title and a Location. You can select an existing location already or create a new one.
Tip: If you have several locations and screens, we recommend to always use the same structure, such as: City- Street | Room; such as "Berlin - Vine Street | Lobby".
If you are using the LiteURL or API
Please contact your account manager to get access to our inventory template.
Can I connect multiple screens?
If you want to connect multiple screens to FRAMEN with the same device, you'll need a splitter. A splitter is a device that takes a single input and splits it into multiple outputs, allowing you to connect multiple screens to the same device. This is useful if you want to display the same content on multiple screens at the same time. Once you have a splitter, simply connect the device to one input and the screens to the outputs. Make sure to check the specifications of your splitter and screens to ensure they are compatible and support the desired resolution and refresh rate.
Next Steps
In order to start earning money,
- The location must be completely approved by FRAMEN. To learn how to do this, check our guide here.
- The screen must be able to receive ads, controlled by the toggle in the ads section as described below. Learn how to edit player settings here