You will find below guidance on how to install the FRAMEN TV Box as well as add your own content or stream news from newspapers such as WELT and BILD.
What's in the Box?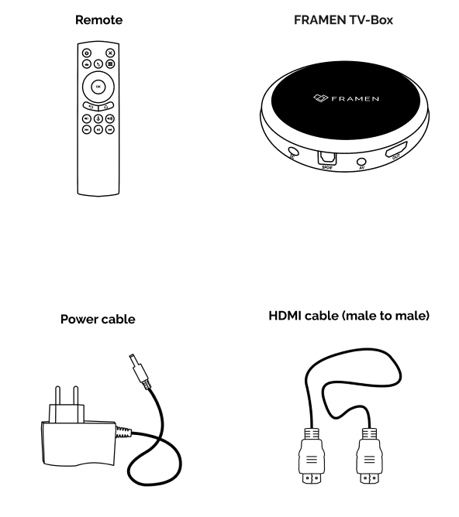 What do you need?
- A TV with a free HDMI slot
- A free power socket
- An internet connection
A strong internet signal is required to use the FRAMEN TV Box. If the internet signal is insufficient, we recommend connecting an ethernet cable to the ethernet input on the FRAMEN TV Box.
Installation
- Connect the charging cable to the DC input on your FRAMEN TV-Box and the other end to a power socket.
- Connect the HDMI cable to your FRAMEN TV-Box and then plug it into the TV.
- Turn on your TV, making sure that you have the correct HDMI channel selected.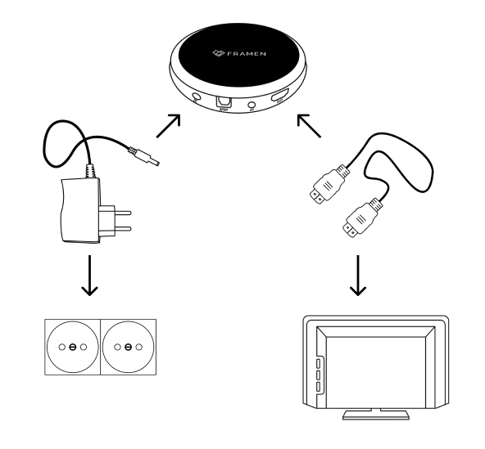 - After the TV Box has booted up, navigate through the tutorial and press the "Menu" button on your remote control or on the top left of your screen to enter the settings.
- Navigate to the Wi-Fi settings and connect to your Wi-Fi network.
Enter your password with the keyboard displayed by pressing the remote control.
Exit the keyboard by clicking the "Return" button and confirm your password entry.
If you need to whitelist the TV box to connect to your internet, you will find the MAC address under the box, or you can navigate in the menu to the wifi configuration, and find the IP and MAC address at the bottom.


- After you have configured the Wi-Fi and are now connected to the Internet, please exit the Wi-Fi settings, you will see a Pairing ID.
How to connect the player to your account?
Learn how to do that here